---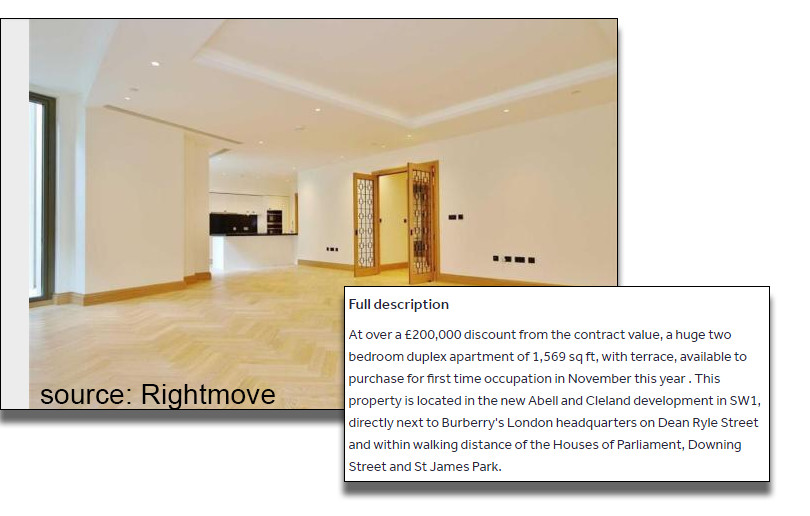 In Pimlico, SW1, within this new Abell and Cleland development sits a Ground and Lower Ground floor duplex listed for £1,163 per square foot. - 33pct less than upper floor units. Vendor appears willing to sell under contract value.
---
Lower Ground Floor Flats
In many areas of Kensington, Chelsea and Westminster, lower ground floors are priced up to 45pct less than upper floors within the same building or area.  With prices already down in these Prime Central London locations, it now means that some lower-ground floor properties are listed at the same level as many areas outside of the Prime Central London perimeter.
Restricted views, ground-level noise, reduced light, and temperature all affect marketability of lower ground floors. Cultural factors are also at play as many foreign buyers simply refuse to consider a lower-ground flat.
In the past, the price difference between lower ground and upper level flats was between 15pct-20pct. Now, in some Prime Central London locations, its common to find flats discounted of upwards of 30pct.
With reduced number of buyers, price gaps between upper and lower floors widened as sellers compete for attention. Discounts on lower ground floor flats attempt to draw buyers away from more desirable upper levels.
Some investors specifically seek lower ground flats in prime areas in order to mine for value. Rental yields for lower ground floor flats tend to be higher than upper floors whilst capital growth generally follows the housing index in the area.
As with many trends, the gap between the pricing of lower ground floors may fall back into line with historical patterns. For now, many shrewd buyers may decide that a great location combined with value for money offset any drawbacks. With many new builds offering high-quality sound and heat insulation alongside quality finishes, it may be a good time to consider a lower ground floor in these developments.