Many times, old property listings (rentals and sales) are removed from property portals and are no longer retrievable. However, they may still be accessible via Google.
Retrieving old listings is a way of checking previous prices and the number of times property has been listed with a particular agent (or other agents) in the past.
Whilst this trick is not a definitive method of retrieving all old listings, it certainly gives consumers a way of seeing a snapshot of past activity.
Before starting, open a property listing from a property portal in your internet browser.  Identify a few key words or phrases from the listing.  Make sure they are unique or distinguishing in some way. Then, open Google and follow the steps below.
For this example, we are using this listing http://www.rightmove.co.uk/new-homes-for-sale/property-42788709.html
Step 1 – Tell Google the Property Portal to Search
Using the keyword "site:", Google allows users to search specific websites for information.
In the Google search field, type "site:" followed by the name of the portal you wish to search.
---
Step 3 – Reveal All Search Results
At the very least, you should have successfully retrieved one listing. If not, then the search criteria may not be correct.  Try searching again with a different word/phrase.
When results are returned, Google typically omits any results that appear to have been repeated.   If this is the case, on the last page of the results, you will see "repeat the search with omitted results included".
NOTE: If too many results were returned, then the key words or phrases may be too broad. Try again with different search words/phrases being careful to select something unique or distinguishing from the description page of the property.
Click on "repeat the search with omitted results included"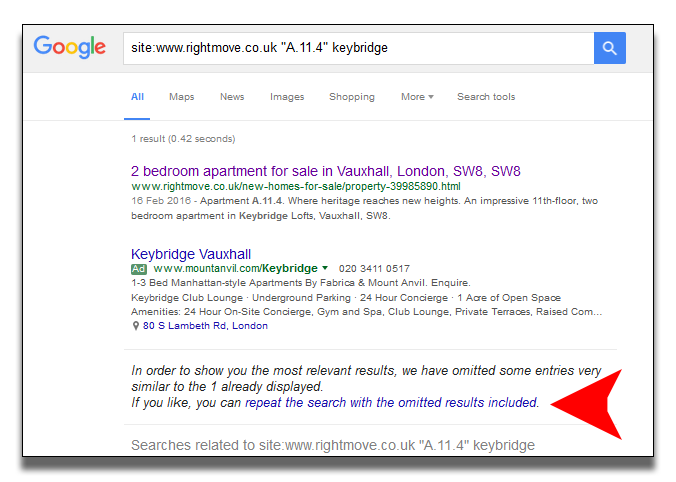 ---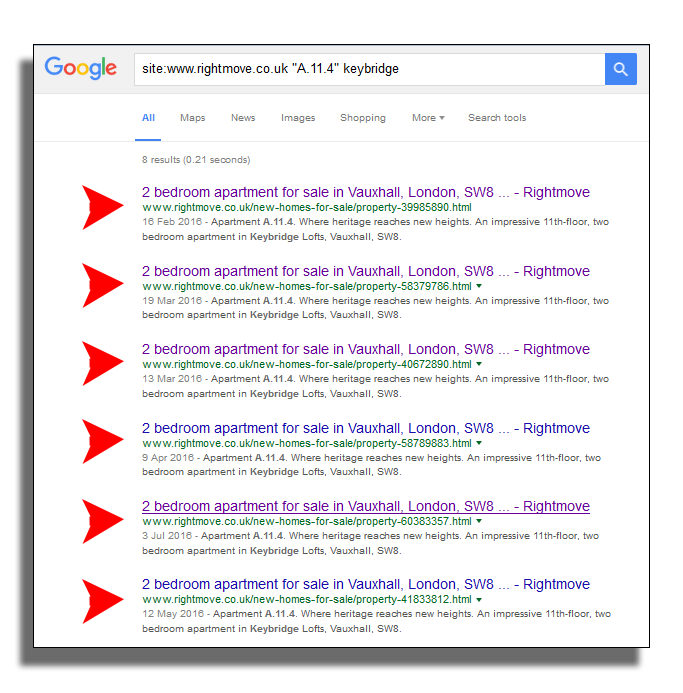 Step 4 – Review the List of Search Results
Click through the results, taking time to carefully check each listing to ensure it is the same listing. 
It may be interesting to note the marketing history of the property, price changes across the listings, and the length of time the property had been listed for sale.
In this particular example, we opened each listing and saw that the property appears to have been listed at least 8 times since February 2016 with at least one price change.
If it is deemed that a property has been relisted numerous times, then a quick call to the agent listing the property might help clarify why the property may have appeared previously. There may be perfectly acceptable reasons as to why a property has been relisted.  For example, many times, agents will remove listings over holidays or if the vendor changes their situation and, at a later date, decides to relist the property. 
It is important not to jump to conclusions as to why there are multiple relistings and simply speak to the agent.